AL-Jawad Tire Retreading is a leading, and of the biggest companies in middle east for Tire Retreading and Rubber works, established in 1999 as a branch of the main mother company Al-Maddenah for Commercial Activities.

AL JAWAD CLIENTS
Mohammed Bin Dojum Company
Crescent Transportation
G.H. Transport Company Limited
Al Marzouki Transport Company
Sleep High (Saudi Arabian Mattress Company)
Saudi Builiding Materials Company (S.B.M. Co.)
Kanooz Industrail Services Company
Mohammed Sharbatly (Sharbatly Cold Stores)
Since its establishment AL-Jawad Tire Retreading Company exerted serious and relentless effort to satisfy market requirements and provide high quality & Safe products through:
Committing to certain standards to ssure high product quality & safety.

Using high rubber quality produced by one of the best European/ German & Quality Assurance certified (ISO 9002) material Suppliers.

Using the latest technology & machines.

Providing clients with technical support services, that helps client controlling & monitoring there tires.
TIRES SAVE PROGRAMME
Retreading means recycling. It gives used tires a second life. When a new tire becomes worn, only the tread surface portion is used; that is less than 20% of the whole tire. We need only 10% of the tire to recycle it.
STORAGE
A lot of companies are forced to leave used tires exposed to the weather sun or rain) under the notion that it is just a piece of garbage or waste, after the tread is worn out. Storage problems are solved by providing storage facilities for used tires in our warehouse, for those customers who need extra space far this purpose.
EQUIPMENT AND MATERIALS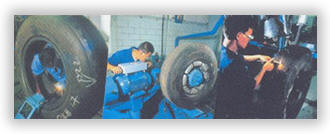 Our machinery is supplied by the world leading manufacturer of tire retreading equipement (ITALMATIC OF ITALY) and the world leading rubber compounder (KRAIBIBURG OF GERMANY) the result is a highly specialized company in the field of tire retreading. ITALMATIC manufacture, supply and assembles our equipment using the most advanced technology, and train our production staff regarding proper operation and maintenance of tire retreading equipment. KRAIBURG supplies and manufactures raw materials-tread rubbers and gums and have trained our staff on the process and technique of producing a reliable and quality retread.